Red Rock has had great success at the Dubbo National Sale which they have been selling at since 2004.

Red Rock A46 sold for an Australian Record Price of $41000 in 2006.

Check out our Gallery from our 2015 On Property Sale.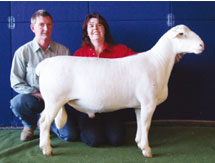 Buyer Steve Cresswell (left), Annalara stud Dubbo, NSW and vendor Tanya Edson, Red Rock stud, Keith South Australia.